The Tomb of the Emperor Meiji on the hill, to offer a fantastic view across the Fushimi town.
Fushimi-no-Momoyama-no-Misasagi 「伏見桃山の御陵」, the Tomb of the Emperor Meiji is located on Momoyama Hill in the Fushimi area of southeastern Kyoto.
It's the site of the original Fushimi Castle, which replica is located half a mile from the tomb. Momoyama-no-Misasagi is a place of great natural beauty. According to experts, this may have been his own wish for his last resting place to be there among the quiet green hills. The view from the hills here is just wonderful. Momoyama-no-misagi attracts both people who come to pay their respects to the Emperor, and people who come to stroll the quiet paths among the deep green trees.
Highlights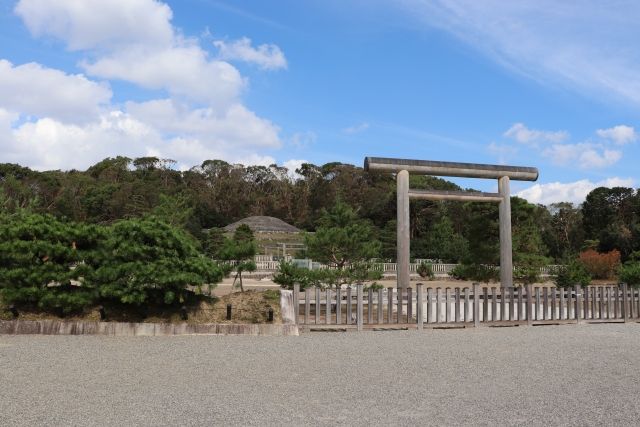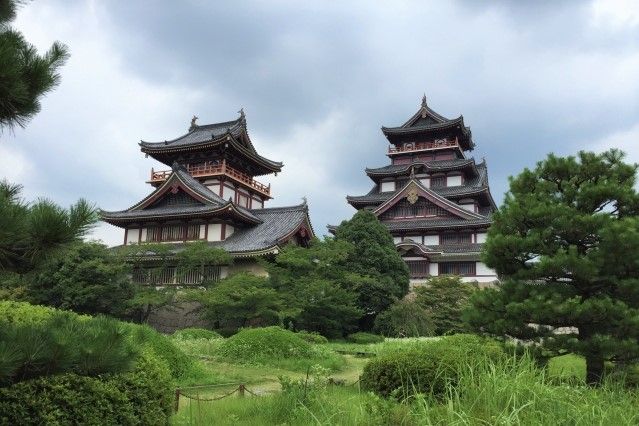 The great steps and a fantastic view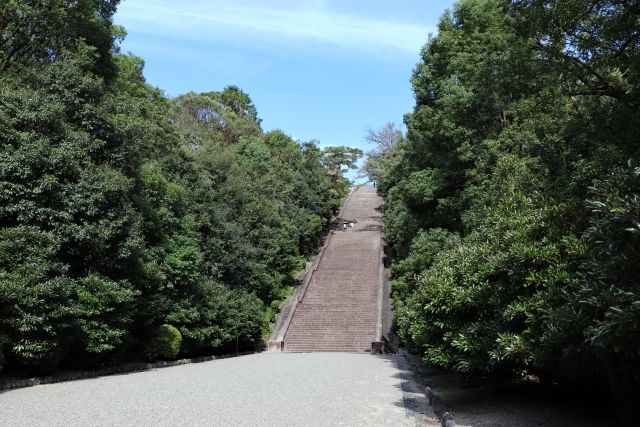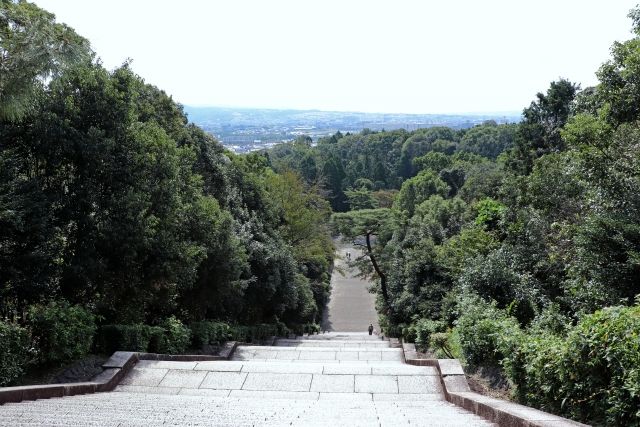 The Emperor Meiji has a beautiful resting place. This whole area is very peaceful with very few visitors as it is set on a hilltop. It's worth to take the great steps that lead straight up the hill to appreciate the well maintained gardens and a fantastic view across the Fushimi town.
A traditional burial mound of the Emperor Meiji
The Emperor Meiji was born in Kyoto in 1852. He reigned over the country in an era of huge social and economic changes, as the country opened up to the rest of the world for the first time in over 250 years and received back the rule of the land from the Tokugawa Shogunate.
The Emperor Meiji died when he was only 60 on July 30, 1912. The actual tomb is set back from it's entrance of a magnificent stone torii gate, and a Zen garden style stone path beyond leads straight up to the tomb. Visitors can only admire from a distance. A traditional burial mound with a square base and round top, each side of the lower square base is 60-meter long, the upper round top is 6.3-meter tall and its dome is covered with gravel. A smaller version of the tomb can be found on the east side. There, his wife, Empress Shoken is buried.
Autumn colors lined steps making a stunning view
Today, It's particularly popular during the autumn color season. The view of the great steps along with autumn foliage is very picturesque scenery.
Access : 20 to 25-minute walk from Momoyama station on the JR Nara Line, Momoyama-Goryomae station on the Kintetsu Kyoto Line, or Fushimi-Momoyama station on the Keihan Main Line.
Hours : 8:30 to 17:15
Admission : Free
About 45-minute from JR Kyoto