A hidden temple, to offer a breathtaking scenery with bright red Dodan-Tsutsuji Azalea in autumn.
Ankoku-ji「安国寺」, a small Zen Buddhist temple is located in the north part of Hyogo prefecture, near by the famed Kinosaki-Onsen hot springs.
The temple was founded in 1345, as a Zen temple, a part of the Haitoku-ji branch of Rinzai School which is one of the three Zen sects in Japan. The current Temple building you see today is rebuilt as the temple was burnt down accidentaly by fire in 1717. Ankoku-ji temple is well known for the 100 years old Dodan-Tsutsuji, Azalea trees, planted in the back of the temple when the temple's main hall was reconstructed in 1904.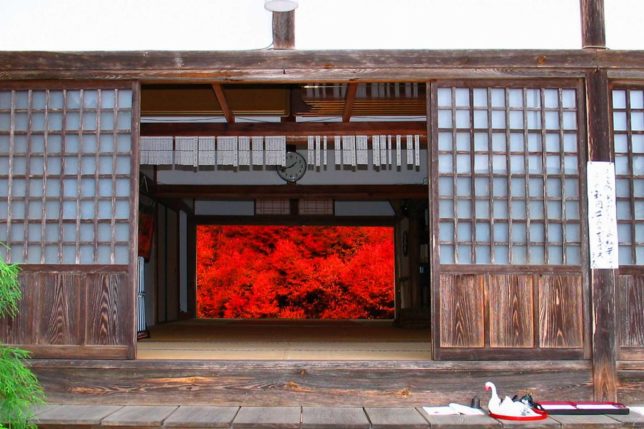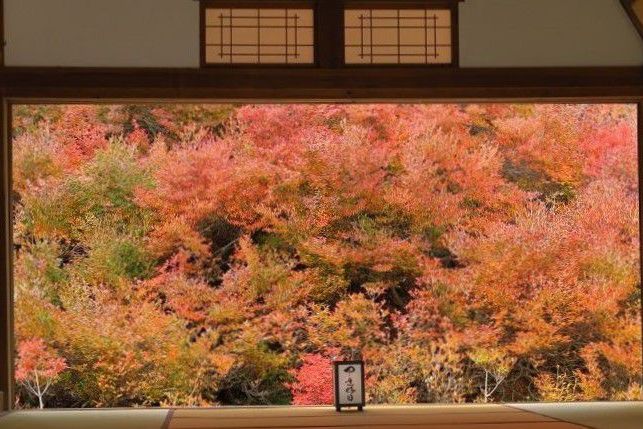 In Autumn, usually mid-November, Dodan-Tsutsuji trees turn into brilliant red. During the season, visitors can enter the guest room of the main hall, and there is also the lit-up in evenings. The view of colored leaves from the guest room is absolutely stunning, like a living painting.
Address : 327, Tanto-cho Aida, Toyooka, Hyogo 668-0324
Hours : 8:00 to 19:00
Admission : 300 Yen
Access : From Osaka, or Kyoto, It takes 2 hours and a half by JR train to Toyooka or Kinosaki station.
Taxi : 30-minute by car or taxi from JR Toyooka station on the JR Sanin Main line, or 45-minute drive from Kinosaki Onsen Hot springs.
Bus : You can take a bus from Toyooka station towards Izushi bus stop and change to the Zentan Bus for Nakayama/Akabana/Okufuji. Get off at Deai bus stop and change buses to the Enacar Kawanobe Line. Get off at Kodani bus stop and walk 15-minute.