Shitennou-ji Temple, located in Osaka, is one of Japan's oldest temples and the first ever to be built by the state. It was founded in 593 by Prince Shotoku. He is known for his profound Buddhist faith when Buddhism was still not widespread in Japan.
The temple's buildings are beautiful, historical buddhist architecture from the 6th and 7th centuries. Although the buildings burned down several times throughout the centuries, they were always carefully reconstructed to reflect the original design. A middle gate, a five-storied pagoda, a main pavilion which enshrines Prince Shotoku as a statue of Kannon and a lecture hall are arranged from south to north in a beeline, which is known as "Shiten'no-ji type temple layout".
Shiten'no-ji Temple is the Buddhist structures built in the Asuka Period together with Horyu-ji Temple in Nara. The temple had a free dispensary and other welfare facilities set up in its precincts to give the poor free medicines and treatment and provide free accommodations for the aged without family and infants, opening the way to public welfare service in Japan.
The Temple has a beautiful garden "Gokuraku-jodo Garden",designed based on descriptions of the Western Paradise of the Amida Buddha. Also on the temple grounds stands a treasure house that displays paintings, scriptures and other valuable belongings of the temple in periodic, themed exhibitions.
Address : 1-11-18 Shitennoji, Tennoji-ku, Osaka-shi, Osaka
Fee : Inner precinct: 300yen, Gokuraku-jodo Garden 300yen, Treasure house 500yen (8:30 to 16:30)
The outer temple grounds are free and open 24 hours
Access : A short walk from Shitennoji-mae-Yuhigaoka station on the Tanimachi Subway Line. 10-minute walk from JR Tennoji station.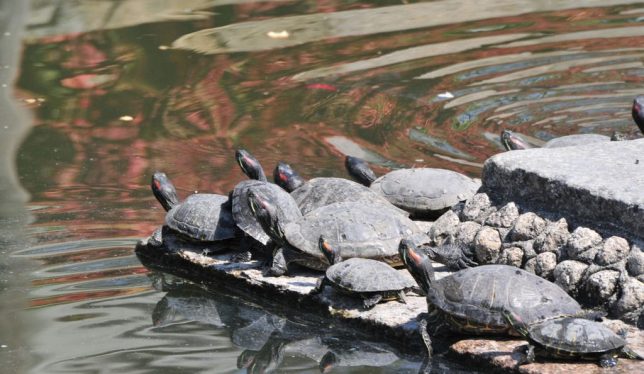 In Japan, turtles are thought to be a god's messenger. They are also a symbol of longevity. So many many turtles live in Shitennoji temple's pond because they are animals which bring luck!
---
JUL 6 to 8 : Check the event schedule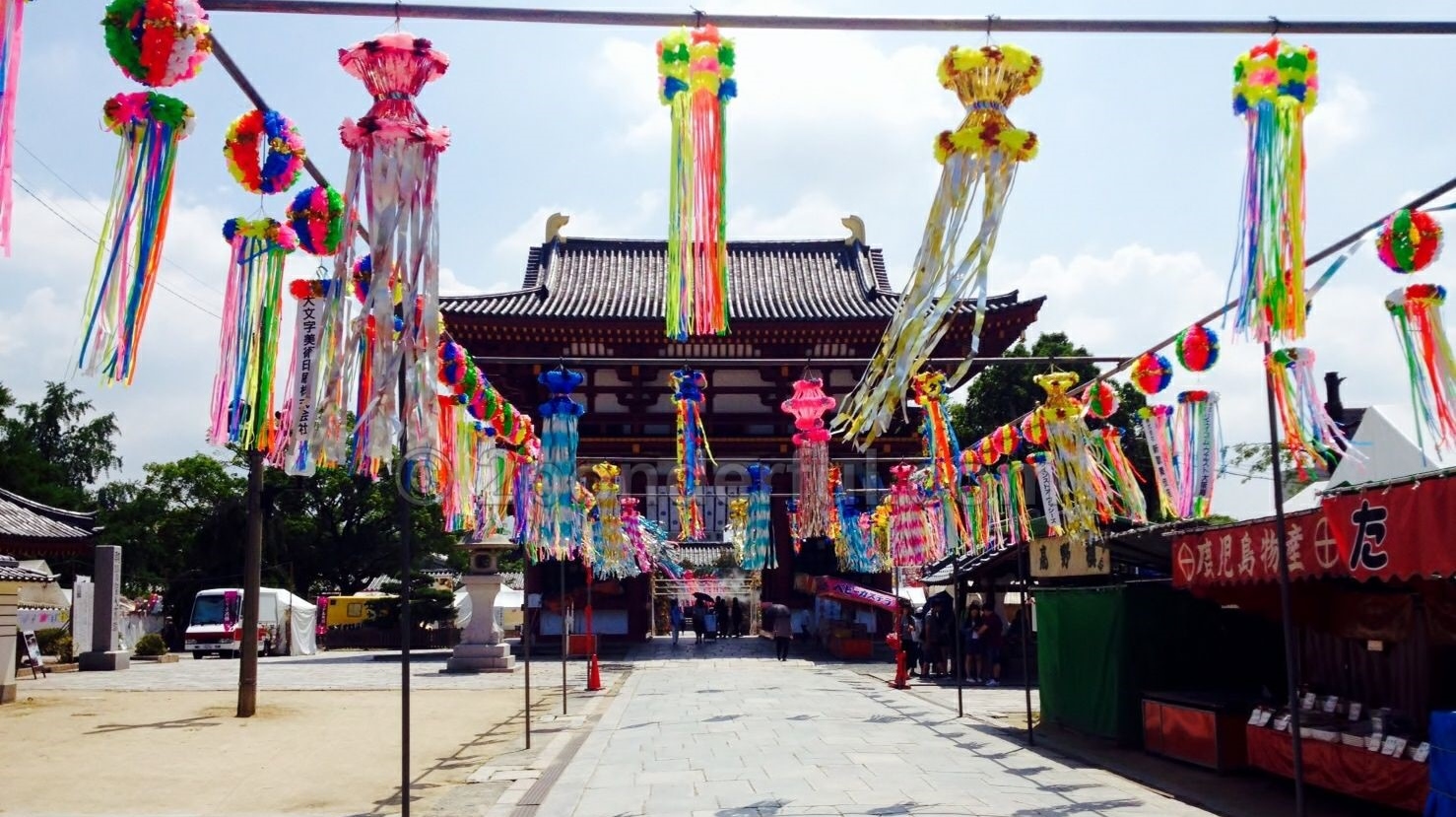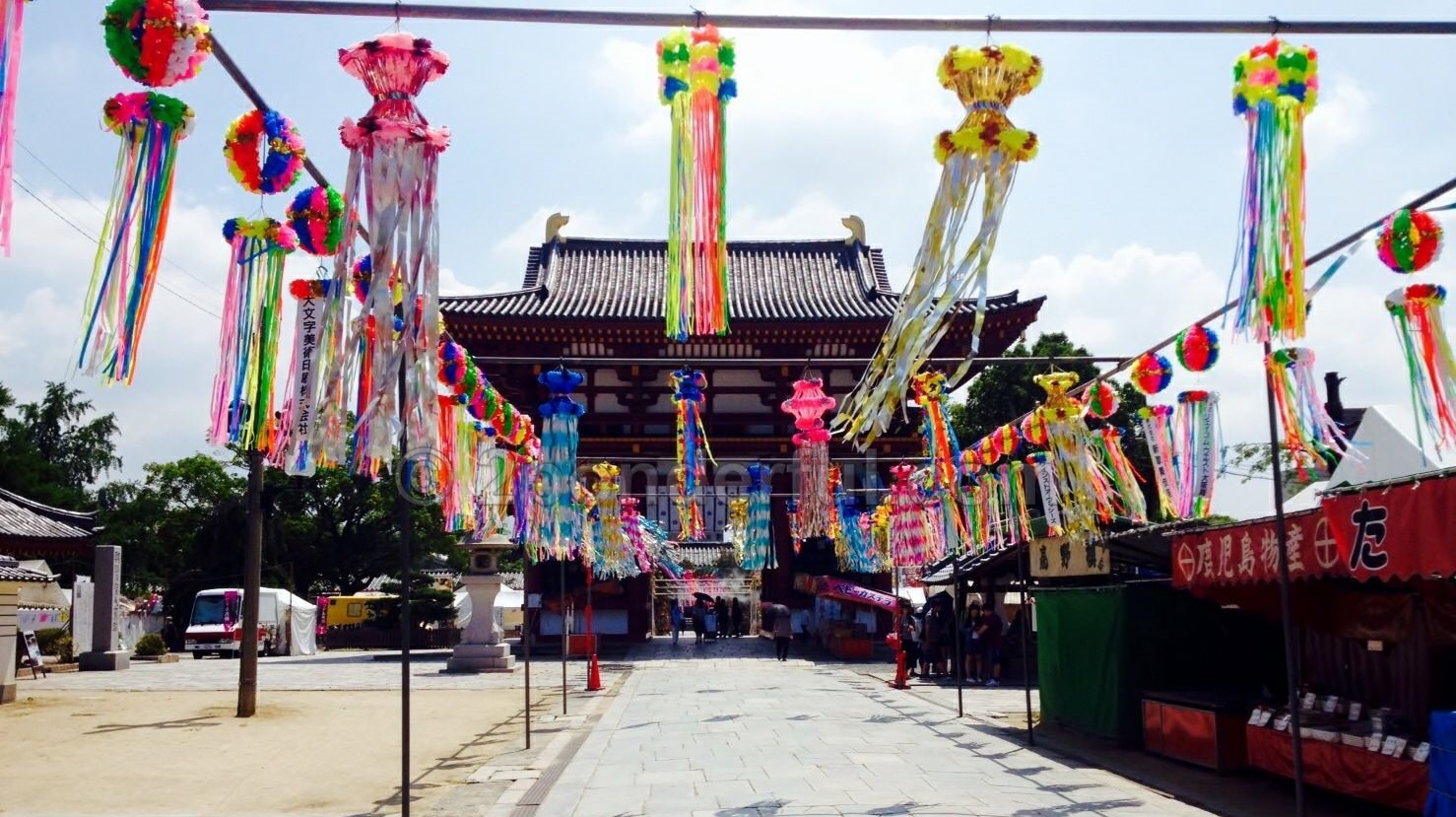 The temple grounds are filled with people of all ages attaching their wishes to the large bamboo display, eating summer festival fare – takoyaki, baby castella, fried noodles, shaved ice.
---
AUG 9 to 16
Manto-Kuyou, Candle Night
Many lanterns and candles are offered to the spirits of their ancestors and Great Buddha.
---
Date : 8:30 to 16:00 on the 21st and 22nd of every month
Shitennou-ji Flea Market
A festival commemorating the anniversaries of the deaths of the revered monk Kukai and Prince Shotoku.
Antiques, old clothing, japanese ceramics, tableware, accessories and foods for sale from 300 shops.