A small shrine with a unique black torii-gate is an interesting stop along the Arashiyama bamboo grove walking path.
Nonomiya-jinja Shrine「野宮神社」 is located near the famed Tenryu-ji Temple in Arashiyama, Kyoto. The shrine is surrounded by Arashiyama's beautiful bamboo grove on all sides. This small shrine has a long history, founded to serve the 15th Princess Ninshi, a daughter of The Emperor Saga. She served as priestess from 809 to 823.
Nonomiya-jinja Shrine has a unusual black torii gate, but not iconic vermilion red gate. This torii gate is the oldest style of Shinto shrine called "kuroki torii", which is made by unstripped logs. The shrine also composed of a small main altar and a several sub-shrines in the precincts along with a lush green moss and maple trees. Visitors can also enjoy viewing beautiful autumn colours.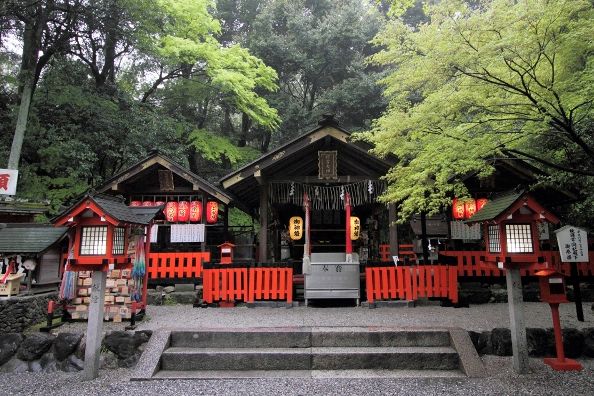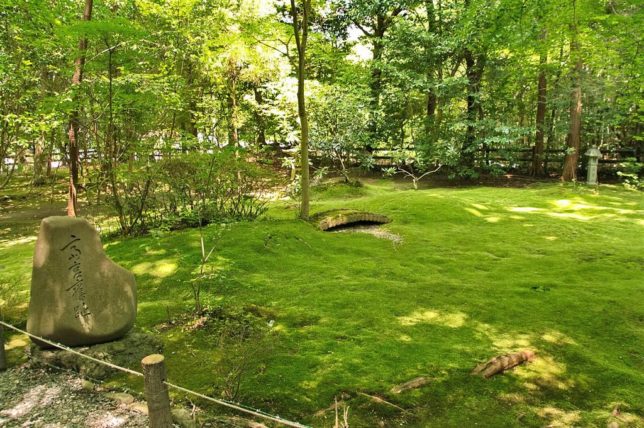 Several gods are enshrined here. One of the sub-shrine, the Daikokuten shrine has a large, peculiarly shaped stone. This stone is called the Kame Ishi (Turtle Rock). It is believed that if you rub and pray over the stone, your wish will be granted within a year.
One of them are a god of good match and marriage and another is a god of an easy delivery. Therefore, Nonomiya-jinja Shrine has a great reputation for helping and interceding on behalf of women.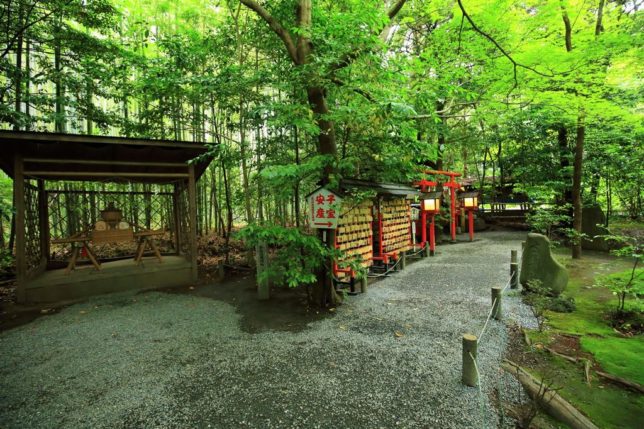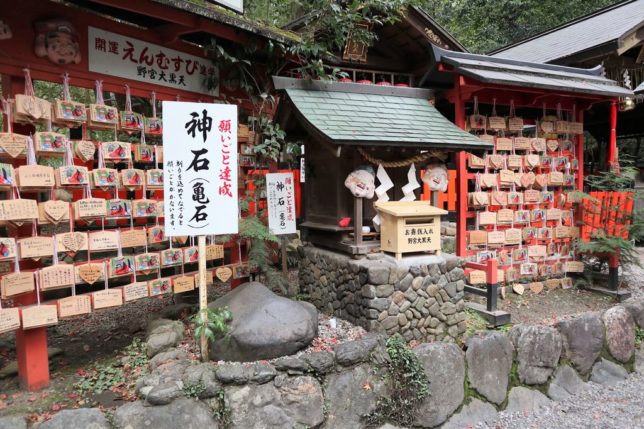 You can find a variety of amulets available at the shrine office. "enmusubi" for good relationship", "kosazuke" for conception of a child, "anzan" for an easy birth, and more can be found in various colors and designs. "Ema", wooden plaque is also available, which you can write your wish onto it and hang it up on the precincts.
Address : 1 Saganomiyanomotocho, Ukyo Ward, Kyoto, 616-8393
General Hours : 09:00 – 17:00
Admission : Free
Access : 10-minute walk from Arashiyama station on the Keifuku Dentetsu Arashiyama Line, 12-minute walk from Saga Arashiyama station on the JR Sagano line, or 15-minute walk from Hankyu Arashiyama station on the Hankyu Arashiyama line
Kyoto City Bus : No. 11, 28, 93 ,61, 72, 83 to Arashiyama Tenryū-ji-mae Bus Stop