A temple to offer a peaceful getaway for those looking for a quiet retreat and the beauties of nature.
Kaju-ji Temple「勧修寺」、located in Yamashina Ward, sometimes pronounced as Kanshu-ji, is the main temple of the Yamashina school of Shingon Buddhism. It was founded in the year 900, by the Emperor Daigo to mourn his mother.
During the Onin War in 1470, Kaju-ji Temple was burned down. The temple was later rebuilt in 1682 by the combined efforts of the imperial families and the Tokugawa clan.
The grounds hold some important buildings that has been designated as an important cultural properties, such as a Shoin study room, a Shinden hall, and a main hall. The Kaju-ji Temple is also famous for its beautiful garden, Hyouchien which is a strolling style garden with Himuro-no-ike pond centered. The pond is home to a variety of water birds, koi carp, and gorgeous flowers such as iris, water lilies, and lotus as well as the surrounding seasonal blooms, including wisteria, hydrangea, and cherry blossoms.
On the edge of the pond, the straiking white and brown two-story hall with a phoenix spreading its wings towards the sky on top of the hall is Kannon-do. The Kannon-do hall enshrines a Buddhist statue of the Goddess of Mercy, Kannon. This building looks very beautiful when viewed with the pond and its lily pads.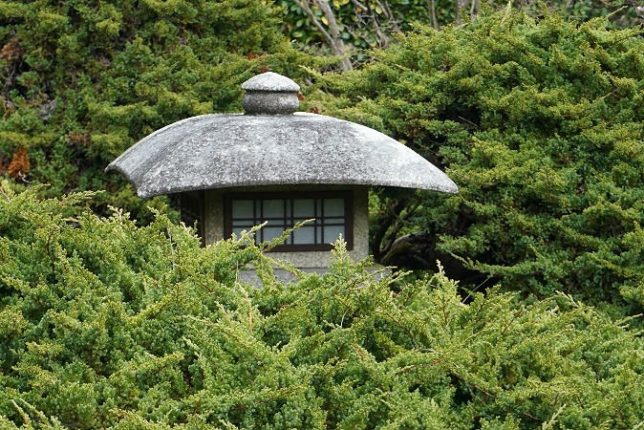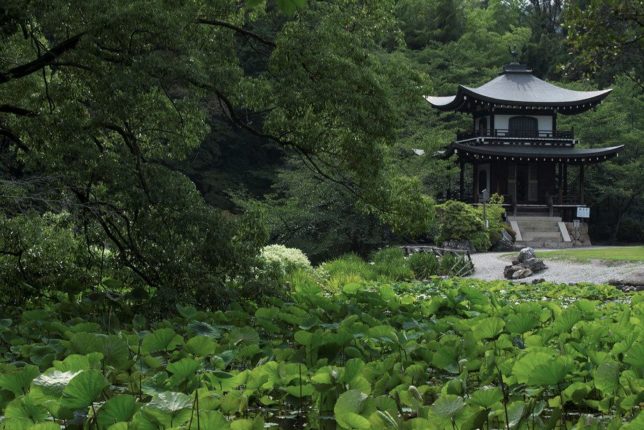 Another feature of the garden is Kaju-ji style lantern, one of the most unusual items, an uncommonly shaped stone lantern, located in the garden nearby the Shoin study room. This lantern with a large sloping roof is donated by Mito Komon, the lord of Mito Province (part of modern-day Ibaraki), in the 17th century.
Address : 27-6, Kanshuji Niodocho, Kyoto Shi Yamashina Ku, Kyoto Fu, 607-8226
Hours : 9:00 to 16:00
Admission : 400 Yen
Access : 10-minute walk from Ono station on the subway Tozai-line