A hidden mountain side temple with various flowers
Yoshimine-dera 「吉峰寺」 is a temple of the Tendai sect of Japanese Buddhism located in Kyoto's western mountain side. Well-known Kiyomizu-dera,one of the top tourist spots is on the opposite side, in the east of town. Those two mountain temples are with a magnificent view of the city, and are close to the heart of Kyoto, easily accessible by bus. It's worth to try the much less well known but equally beautiful Yoshimine-dera.
The temple grounds are spacious and there are many Temple's buildings.
The Main hall "Hondo" is located just after the temple's main entrance gate "San-mon". A treasure house where some of the temple's artifacts are put on display, stands beside the main hall . Temple's paths extend up the mountain side from these buildings, and many small temple structures are located along the way. The views are quite impressive from there.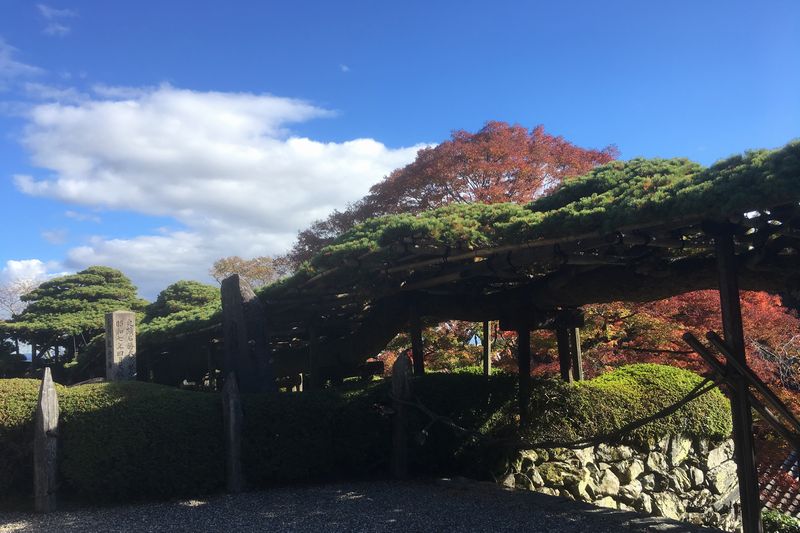 Along with a good view of Kyoto below, there is one of the landmark in this temple. It is actually a tree called "Yuryu no Matsu", a revered 600 year old pine tree that is only 2 meters tall but 40 meters wide and so this temple is also known as the Pine Tree Temple.
The Temple's gardens are appealing visitors back throughout the year. There are huge weeping cherry trees that are more than 300 years old and The 500 various kinds of cherry trees which blossom profusely in April.
In mid-July to mid-July, 10,000 hydrangeas cover the entire slope, and from the high ground, the view of Kyoto beyond the hydrangeas is stunning.
The temple area is particularly beautiful in combination with autumn leaves, and are usually best in the second half of November.
Access : The temple can be reached by Hankyu Bus No.66 in 30 minutes from Mukomachi station on the JR Kyoto line or Higashimuko station on the Hankyu Kyoto line. There is one bus per hour.
Hours : 8:00 to 17:00
Admission : 500 yen