An atmospheric forest path, lined with hundreds of stone lanterns takes you to Nara's most famous and impressive Shinto shrine.
Kasuga-taisha Shrine「春日大社」,Nara's most famous shrine is located in the east of Nara Park. The shrine was established in 768 at the same time as the capital for the protection of the city by the order of Emperor Shotoku.
Kasuga-taisha Shrine was also the guardian shrine of the Fujiwara, the most powerful family clan in those days. From the 8th century, following the Fujiwara's prosperity, it grew as the shrine dedicated to the ancestors of the Fujiwara family. The shrine also prospered as the place where the Emperor and the retired Emperors all come to worship.
Everywhere, visitors may come across the sacred deer that serve the Shinto deities of the Kasuga-taisha Shrine.
Kasuga-taisha enshrines four gods from important shrines all over the country, such as Kashima-jingu in Ibaraki Prefecture, Katori-jingu in Chiba Prefecture and Hiraoka-jinja in Osaka.
The main shrine, built in a special architecture called "Kasuga-zukuri", is designated as a National Treasure. It include the mountain in the background, Mt. Mikasa-yama has been the object of worship as well.
Behind the shrine's offering hall, there is a paid area which provides you a closer look of the shrine's inner buildings. The main sanctuary is innermost, containing multiple shrine buildings.
The lanterns are only lit twice a year.
In the shrine's grounds, there are hundreds of bronze lanterns hanging from the buildings, and stone lanterns lining up along the approaches. The lanterns are only lit twice a year during two Lantern Festivals, one in early February and one in mid August.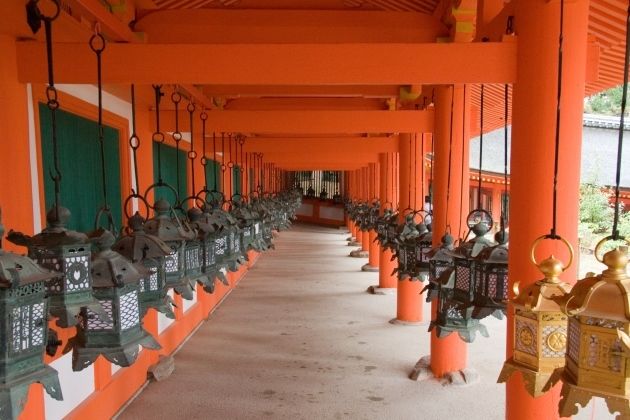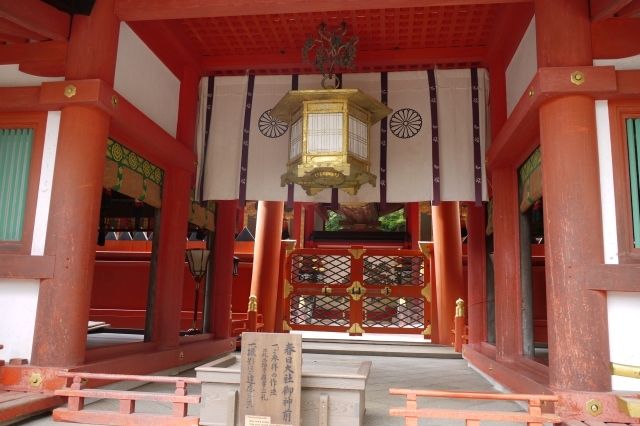 There are also many small sub-shrines dedicated to the twelve lucky gods along a path past the main shrine complex, including Wakamiya Shrine, an important cultural property known for its dance festival, and Meoto Daikokusha, enshrines married deities.
The shrine's grounds contain the botanical garden, displays about 250 kind of plants described in the Manyoshu, Japan's oldest poems and the Museum, a treasure hall near the main complex which displays some of the shrine's antiques.
Address : 160 Kasugano-cho, Nara-shi, Nara
Hours :
6:00 to 18:00 (APR to SEP)
6:30 to 17:00 (OCT to MAR)
Admission :
500 yen (Honden, Paid area) 8:30 to 16:00
400 yen (Museum) 10:00 to 17:00
500 yen (Botanical Garden) 9:00 to 17:00 (MAR to NOV), 9:00 to 16:30 (DEC to FEB)
Access : 30-minute walk from Kintetsu Nara station, 45-minute from JR Nara station.
It can be reached by bus from either station. Get off at the Kasuga Taisha Honden bus stop ( frequent departures).