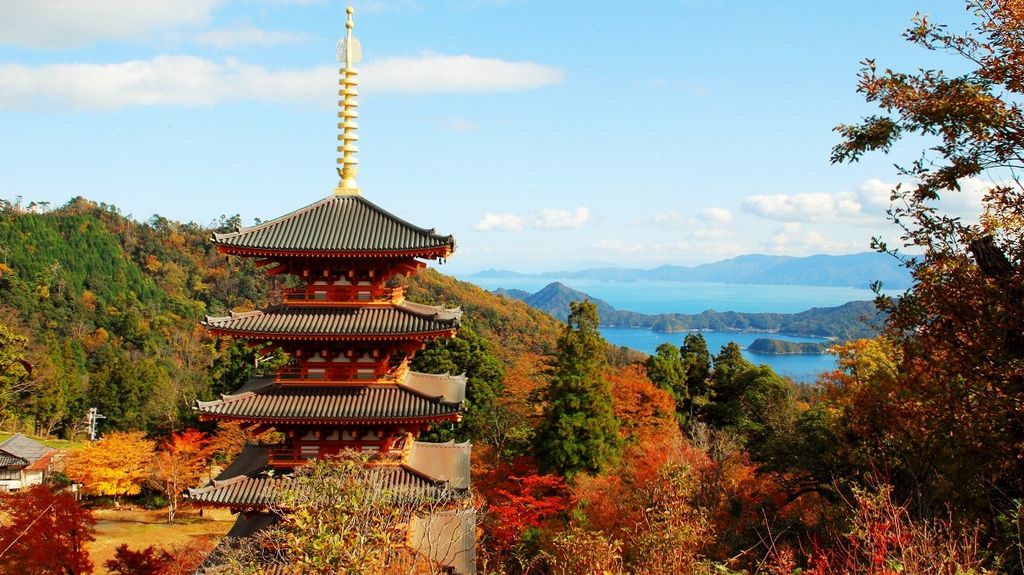 The Temple on the slope to offer one of the best scenic views, Amanohashidate sandbar.
Nariai-ji Temple is located in Kyoto's Miyazu area on the northen side of the Amanohashidate, one of the best scenic view in Japan. From the temple, visitors can view one of Japan's 3 most scenic spots, Amanohashidate Sandbar.
Nariai-ji is the Shingon sect of Japanese Buddhism, and one of the 33 Saikoku temples Pilgrimage. The temple's main object of worship is a statue of Kannon, the Buddhist Goddess of Mercy, and it is said that prayers made here always be answered.
The Temple was founded by Monmu Emperor in 704 on the top of Mt. Tsuzumigatake, but was moved down to the current location after a landslide in 1400. The current location is still high enough on the slope to offer visitors some nice views of Amanohashidate sandbar.
Nariai-ji Temple has many features including "Nio-zo", Guardian statue at the main gate, "Gojyunoto", a five-story pagoda remaining from the Kamakura period (1185-1333), "Bonshu", a wooden bell tower, and an image of Sho Kanzeon Bosatsu in the main hall.
In Autumn, trees around the pagoda turn red and yellow and make beautiful scenery.
There is a lit-up event during the season.
Sponsored Link
Hours : 8:00 to 16:30 Admission : 500 yen by Train : Direct
Hashidate
limited expresses run four times a day and connect JR Kyoto Station to Amanohashidate in 106 minutes (¥4,310). 
Japan Rail Pass
by Bus : Tankai bus from JR Kyoto station bus terminal, platform C2. It takes about 2 hours (¥2700), runs twice a day.
To access the temple, take a cablecar or chairlift (5 minutes, 330 yen one way) to Kasamatsu Park, and Take shuttle buses for Nariai-ji Temple every 20-30 minutes (7 minutes, 350 yen one way).
or 30 mins taxi ride from the train station.