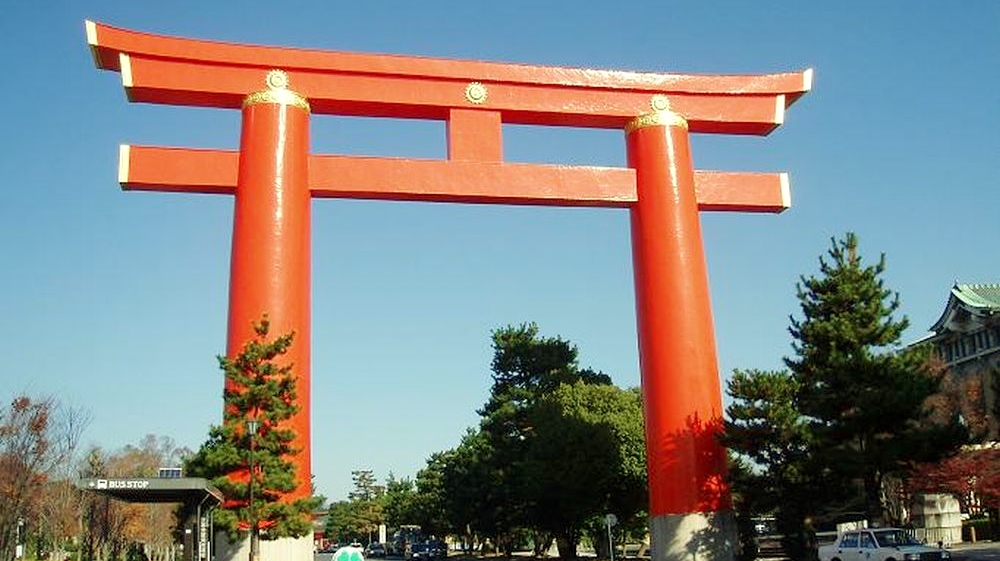 A famous Shinto shrine featuring an excellent garden.
Heian-jingu was built in Sakyo-ku, Kyoto in 1895, on the 1,100th anniversary of the transfer of the capital from Nara to Kyoto.
Kyoto prospered as the capital for more than 1,000 years until the modern government moved it to Tokyo upon the termination of rule by the samurai class. The transfer of the capital in 1868 caused a decline in the prosperity of Kyoto, but, the people of Kyoto united to revitalize the city and built Heian-jingu. Emperor Komei (the last emperor of the period during which the capital was situated in Kyoto) was enshrined jointly here with Emperor Kanmu in 1940.
Heian-jingu Shrine is also famous for the garden with "Otorii", a large red front torii gate. The 30,000 square meter round-the-pond garden is divided into four different gardens which are inhabited by large varieties of birds, from kingfishers to large falcons.
The most impressive sight to see in the garden is the spring cherry blossoms. Buildings such as the red-painted Byakko-ro (White Tiger Tower) of the Heian-jingu Shrine or the Minami Shin-en (south garden) match beautifully with the pink color from the weeping cherry blossoms.
Sponsored Link
Address : 97 Okazaki, Nishi-Tennou-cho,Sakyo-ku, Kyoto-shi, Kyoto
Admission : 600yen
Hours : Open through the year
Benefit : Keep evil away, Family protection,
Bus : Take a bus no.5 or no.100 from JR Kyoto station to Kyoto-Kaikan Bijyutukan.
Access : 10 minute walk from Higashiyama station on the subway.
---
April
Late blooming cherry blossoms can be seen
Large numbers of weeping cherry trees (yaebeni shidare) stand in the garden of Heian Shrine, behind the main buildings. It makes here one of the best spots to see weeping cherry trees in Kyoto. The trees here reach full bloom a few days after the other cherry trees.
This famous cherry blossom spot has appeared in the famous novel "Sasameyuki" written by Junichiro Tanizaki. The illumination event is held during the cherry blossom season.
---
April : Check the event schedule
25-minute boat cruise while celebrating spring greenery and cherry blossoms.
Okazaki canal is located just outside of Heian-jingu Shrine. The canal connects the Lake Biwa canal network with Kamogawa river. Cherry trees line the canal along Reisen street and run all the way out to Nanzen-ji Temple. A view of a large red torii gate from the boat, over cherry blossom is amazing.
---
October : Check the event schedule

A festival held at the Heian Jingu Shrine, the Jidai Matsuri is one of the three largest festivals of Kyoto.
The highlight of the festival is the Jidai Gyoretsu (Historic Pageant): a mikoshi (a portable shrine) and a suite of some 2,000 people dressed in costumes representing various eras of Kyoto's 1,200-year history parade through the city.